The Microsoft Outlook email software stores all emails, attachments, contacts, tasks, calendars, notes, and journals in a PST file, which stands for Personal Storage Table. PST files have so many advantages over other mailbox formats like MBOX that people are compelled to convert MBOX to PST and utilize MS Outlook. It does, however, have certain drawbacks.
PST files are prone to corruption. It might be caused by an unexpected shutdown of the Outlook application, hardware problems, defective network devices, or malware. However, whatever the cause, PST corruption causes Outlook errors and may potentially result in data loss if not addressed immediately. As a result, in this tutorial, we shall restore PST files without using Outlook. And will develop both a free and sophisticated repair approach for this reason.
Method 1: Using Free Repair Utility to Repair Minor Corruption in a PST File
Microsoft is aware of the PST file corruption. As a result, it includes a free PST repair tool – ScanPST.exe, the Inbox Repair Tool – with the Outlook email client. However, it can only fix mild corruption and will fail if the file is severely damaged.
Please follow the procedures below to Repair PST file for free:
Navigate to your computer's ScanPST.exe file. A basic search should be sufficient.
The common location is comparable to "C:Program Files(x86)Microsoft OfficeOffice16".
Once you've located it, launch the tool on your computer. Ensure that Outlook is fully off at the time.
Click "Browse" and choose the MBOX files you want to fix.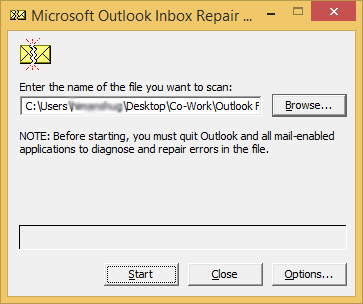 5. To begin scanning, press the "Start" button.
6. To avoid future problems with your PST file, you may select to generate a backup of the scanned file before restoring it.
7. Finally, click the "Repair" option to begin the repair procedure.
8. If all goes well, the utility will fix your file successfully.
If it fails, fix it numerous times to confirm that it is not under the control of this free tool. Please keep in mind that this feature is included with Outlook and is not downloadable. If you don't have it on your system or it keeps failing, move on to the next solution.
Method 2: Recover Files Regardless of Corruption Level Using Advanced Repair Tool
To avoid the aforementioned limits and rapidly and efficiently fix PST files, apply a third-party PST repair solution, such as Softaken Outlook PST Repair Tool. The tool has advanced algorithms that allow you to easily repair corrupted PST files of any size. It has an easy-to-use interface, and any user may use it to repair the PST file.
This application includes an easy-to-use interface and a plethora of useful capabilities. Its intelligent algorithms can easily fix both small and significant levels of corruption. All you have to do is choose the PST file(s), select the scanning option, and the software will convert all of your PST files into healthy ones. It quickly restores everything from emails, contacts, calendars, tasks, notes, and diaries.
Highlights of Softaken Outlook PST Repair software
A smart and safe piece of software.
It has the ability to recover ANSI/UNICODE PST files.
Perform a quick recovery of the chosen folders.
Data recovery in its entirety, including emails, contacts, and calendars.
Working with Outlook in all of its forms is a delight.
Things that have been deleted can be safely recovered.
Working with the most recent Windows versions.
Items are cleaned up before conversion.
The trustworthiness of the data has not been jeopardized in any manner.
Recover the necessary PST file.
There is a free software trial available.
Password-protected PST files are supported.
Follow the procedures below to repair PST file and recover its data.
Install the Softaken PST Repair Software.
Insert your PST file.
After auto-scanning, view the data as a PST file.
Select the Repair PST option.
To store the collected data, choose PST.
The following are some of the many features of Outlook PST Recovery Tool:
PST files that are damaged or inaccessible can be repaired.
One of the greatest programs for fixing corrupted or broken PST files is Softaken for Outlook Email Recovery Tool. It can restore emails, contacts, calendars, notes, tasks, and journals without compromising data integrity from corrupted or damaged Outlook files.
Deep Scan and Preview
After the program has properly scanned the uploaded problematic PST file, the contents of the PST file are shown in a tree structure, allowing users to inspect everything and restore all or a selection. The program can recover ANSI and Unicode PST files.
Conclusion
Outlook PST files are prone to corruption but are simply repairable if they get damaged. All you need is a high-quality PST file repair solution. In this post, we provided ways that can not only restore PST data using Outlook, but also repair PST files without Outlook, regardless of the extent of contamination. Deleted items from PST files can also be recovered using the advanced repair method. You may just test its free edition to see the method's amazing potential.
PST files of any size can be fixed
This Outlook Recovery Tool simplifies the repair of PST files of any size. It recovers all important data rapidly and lets users to save the restored PST file to a location of their choice. The size of PST files is not limited by this application.
Emails can be saved in a variety of formats
After completing the PST file recovery method, clients can save all or a selection of their PST emails in a variety of file formats. Using the Repair PST Tool, users may save recovered items in PST, EML, EMLX, and MBOX formats. The folder structure is fully safe during the process.
PST Recovery is both fast and safe
With this tool, the entire PST Email Recovery process is quick and simple. Users will have no difficulty utilizing Outlook file Repair since each approach is self-explanatory. The tool recovers and exports PST data objects while keeping all email attributes intact.