Every business/brand requires a well-performing website. You need a good-looking and functioning website irrespective of the use case: business, brand, selling products/services, blog, etc. If you already have a website, is the platform you're using right for your website's requirements?
Here are 10 reasons why you should choose WordPress:
Pricing
We all want the best at the lowest cost. This is one of the make-or-break factors in choosing a CMS. And I've got the perfect news for you. WordPress is Free! Yup, it's true, and aye, no hidden costs, or anything, don't you worry! ✨
Just buy a domain, take a hosting space, and it's done! Install WordPress and get started!
Easy Installation and Updates
WordPress is famous for its 5-minute installation. There's no holdup with complex and super detailed installation, which requires you to go through even more complex instructions.
And there are regular updates and fixes, and patches. So, don't worry, your website will be safe and secure. Hey, if WordPress wasn't safe, why would 43% of the world use it? ?
Flexibility to Create any Website
With WordPress, you get the flexibility and functionality to create any type of website.
Here are 7 Reasons Why Website Performance is Important for Your business's Success
Not only for Developers (No Coding)
Well, the thing with using software is that somewhere or other it requires a software professional. This is an area where WordPress shines, because of how easy it is to learn and use. And it's not just that, it's easy to play around with.
Easy to Learn and Use
Like every software, WordPress does come with a learning curve. But the difference is that once you get a hang of it, you'll love using it, playing with it, and working on it!
Easy Maintenance of the Website and its Content
WordPress not only is easy to learn and use. But your WordPress website is easy to protect, safeguard, and maintain too! You've got plugins that can take care of everything surrounding website security, database, backups, etc. (and if a plugin doesn't provide that too! We'll discuss plugins too, all in good time!)
WordPress handles all of it and that too with ease. All types of content are not only supported but also kept in a way that is easy for you to add, access, edit, and upload to your content. As simple as that!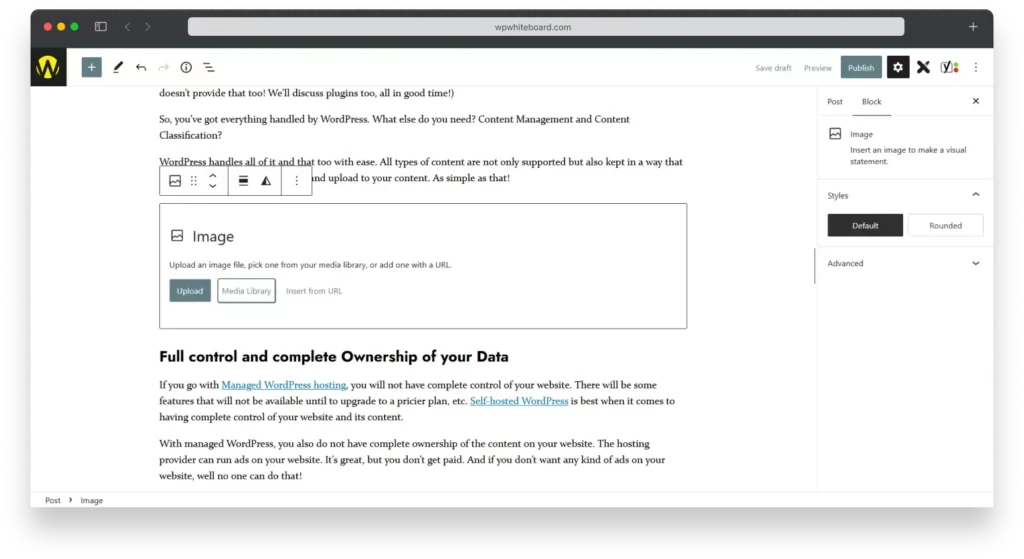 Full control and complete Ownership of your Data
If you go with Managed WordPress hosting, you will not have complete control of your website. There will be some features that will not be available until to upgrade to a pricier plan, etc. Self-hosted WordPress is best when it comes to having complete control of your website and its content.
With managed WordPress, you also do not have complete ownership of the content on your website. The hosting provider can run ads on your website. It's great, but you don't get paid. And if you don't want any kind of ads on your website, well no one can do that!
This is why I suggest going with a self-hosted WordPress website. It's cheaper and gives you complete control and ownership of your website and its content.
If you've checked different hosting providers, you'll see them offering added things like an SSL certificate, CDN (Content Delivery Network), etc. You get these features either for free like an SSL certificate or at cheaper costs than what these hosting providers charge you.
I'm not saying managed WordPress hosting is a bad choice. It's a great choice, but it should meet your criteria and needs. Here's something that'll help clear your confusion about choosing between Self vs Managed WordPress hosting. You can decide which one is best for you after reading this.
Supports Numerous Media Types
This is an important factor when choosing the best CMS for your website. No matter if you're going to hold just content and images on your website. What if you decide in the future that your website will have videos too?
WordPress is capable of hosting a variety of media, including:
Images (.jpg, .jpeg, .png, .gif, and .ico)
Audio files (.mp3, .m4a, .ogg, and .wav)
Videos (.mp4, .m4v, .mov, .wmv, .avi, .mpg, .ogv, .3gp, and .3g2)
PDFs
Word documents
Excel spreadsheets
PowerPoint presentations
Adobe Photoshop documents
Hey, it's just getting started. Don't get too impressed with WordPress now. There's a part 2 to this article (Because there's so much to WordPress, this article truly deserves a part 2!).
WooCommerce Integration
All the shoppers and offer-holics, this ones for you! Well, not really..hehe ?.
If you're looking forward to creating and running an E-store, WordPress has got you covered here too! Cool, right? The WooCommerce plugin enables you to turn your website into an E-store.
Plus there's the added advantage of rising to the top searches by leveraging WordPress's SEO advantage. What else do you need? Get started with building your E-com store with WordPress today!
Endless Customization (Theme and Plugins)
This is why people love WordPress. WordPress comes with a plethora of themes and plugins to give you the best website building and CMS experience. You must be wondering just how many plugins and themes can there be..10, 20, or 50?
Well, as of today 4th January 2022, there are 59,993 plugins and 10,362 themes that are available for you to use and create the website of your dreams.
Don't know much about WordPress themes and plugins?
Here's an article taking you through All You Need to Know about WordPress Themes and Plugins.
Conclusion
In part 1 of the series, we discussed a lot of major factors why you should build your website with WordPress as your CMS. I think you've got a fair bit of an idea about what WordPress is. In part 2 of this series, we'll take on some more important factors which will get rid of any shreds of doubt you have about WordPress and its capabilities.